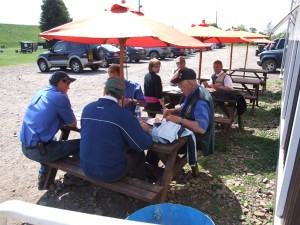 The shooting ground is open throughout the year, every Saturday and Sunday from 10am according to the fixtures. We are also open in the summer on Thursdays from 3pm to dusk and throughout the winter 12 till dusk.
 Thursdays in the winter between October to April consist of skeet, DTL, ABT and 25 Sportrap/Compact with sporting only available by advance request.
CPSA REGISTERED SHOOTS:  Telephone bookings are preferred and recommended on big shoots.
100 SPORTING REG SHOOTS: It is strongly advised that  if you would like to shoot before midday, that you book in advance via telephone or facebook. (Entries open at least 2 weeks prior to the event).
Please note that 100 Sporting reg shoots are held on the first and third Sundays of each month over 13 stands. (Please check fixtures)
01604 642252 (eves) 01604 781741 (clubhouse – shoot days) 07818 602667
OPEN PRACTICE: Consists of 25 Skeet/DTL/ABT & 60 Sporting over 8 stands (Thursdays in the winter are sportrap instead of sporting)
June 2017
DATE
OPENING TIMES
CPSA REG/COMP
ADDINTIONAL INFO
THURS 1ST
3PM - DUSK
SGT. EDWARDS SKEET CUP
60 SPORTING COMP
OPEN PRACTICE
SAT 3RD
10AM - 4.30 PM
100 SKEET REG
100 ALL ROUND REG
BLACK POWDER
OPEN PRACTICE
SUN 4TH
9.30AM - 4.30 PM
100 SPORTING REG
£100 HIGH GUN
OPEN PRACTICE
THURS 8TH
3PM - DUSK
COL. PRITCHARD SPORTING CUP
60 SPORTING COMP
OPEN PRACTICE
SAT 10TH
10AM - 4.30 PM
100 SKEET REG
100 DTL REG
OPEN PRACTICE
SUN 11TH
10AM - 4.30 PM
100 ALL ROUND REG
100 SKEET REG
100 ALL ROUND NORTHANTS, BEDS & LEICESTER COUNTY CHAMPIONSHIP + OLD BOYS TROPHY
OPEN PRACTICE
THURS 15TH
3PM - DUSK
50 SKEET DOUBLES T. SENTENCE TROPHY
M. HENLEY SPORTING JUG
60 SPORTING COMP
OPEN PRACTICE
SAT 17TH
10AM - 4.30 PM
100 ALL ROUND REG
100 SKEET REG
OPEN PRACTICE
SUN 18TH
9.30AM - 4.30 PM
100 SPORTING REG
£100 HIGH GUN
OPEN PRACTICE
THURS 22ND
3PM - DUSK
SKEET TANKARD
60 SPORTING COMP
25 SPORTRAP COMP
OPEN PRACTICE
SAT 24TH
10AM - 4.30 PM
100 SKEET REG
100 DTL REG
OPEN PRACTICE
SUN 25TH
10AM - 4.30 PM
100 SKEET DOUBLES REG
100 SKEET REG
NSSA ANY GUAGE
OPEN PRACTICE
THURS 29TH
3PM - DUSK
DTL TANKARD
50 SINGLE BARREL REG
60 SPORTING COMP
25 SPORTRAP COMP
NORTHANTS SINGLE BARREL CHAMPIONSHIP
OPEN PRACTICE
July 2017
DATE
OPENING TIMES
CPSA REG/COMP
ADDINTIONAL INFO
SAT 1ST
10AM - 4.30PM
100 SKEET REG
100 ALL ROUND REG
BLACK POWDER
OPEN PRACTICE
SUN 2ND
9.30AM - 4.30 PM
100 SPORTING REG
£100 HIGH GUN (TELEPHONE ENTRIES PREFERRED)
OPEN PRACTICE
WEDS 5TH
5PM - DUSK
400 BIRD FLUSH
(OVER 4 LAYOUTS)
LOFTY'S CHARITY FLUSH NIGHT - 4 MAN TEAMS
THURS 6TH
3PM - DUSK
60 SPORTING TANKARD
60 SPORTING COMP
25 SPORTRAP COMP
OPEN PRACTICE

SAT 8TH
10AM - 4.30PM
100 SKEET REG
100 DTL REG
OPEN PRACTICE
SUN 9TH
10AM - 4.30 PM
100 SKEET REG
NORTHAMPTON COUNTY SKEET CHAMPIONSHIP
OPEN PRACTICE
THURS 13TH
3PM - DUSK
75 ALL ROUND
60 SPORTING COMP
25 SPORTRAP COMP
ALL ROUND CLUB CHAMPIONSHIP
OPEN PRACTICE
SAT 15TH
10AM - 4.30PM
100 SKEET REG
100 ALL ROUND REG
BLACK POWDER
OPEN PRACTICE
SUN 16TH
9.30AM - 4.30 PM
100 SPORTING REG

£100 HIGH GUN (TELEPHONE ENTRIES PREFERRED)
OPEN PRACTICE
THURS 20TH
3PM - DUSK
WORCESTER SKEET CUP
60 SPORTING COMP
25 SPORTRAP
OPEN PRACTICE
SAT 22ND
10AM - 4.30PM
100 SKEET REG
100 DTL REG
OPEN PRACTICE
SUN 23RD
10AM - 4.30 PM
100 SKEET REG
EAST MIDLANDS SKEET CHAMPIONSHIP
ALAN BOTT SKEET CUP
OPEN PRACTICE
THURS 27TH
3PM - DUSK
DRAKE SPORTING CUP
60 SPORTING COMP
25 SPORTRAP COMP
OPEN PRACTICE
SAT 29TH
10AM - 4.30PM
120 AUTO SPORTING OPEN
£100 HIGH GUN (TELEPHONE ENTRIES PREFERRED)
BLACK POWDER
OPEN PRACTICE
SUN 30TH
10AM - 4.30PM
100 SKEET REG
100 SKEET DOUBLES REG
100 SKEET OXFORDSHIRE COUNTY CHAMPIONSHIP
100 NORTHANTS SKEET DOUBLES CHAMPIONSHIP
OPEN PRACTICE
August 2017
DATE
OPENING TIMES
CPSA REG/COMP
ADDINTIONAL INFO
THURS 3RD
3PM - DUSK
25 SPORTRAP - M. PERKINS JOINERY CUP
60 SPORTING COMP
OPEN PRACTICE
SAT 5TH
10AM - 4.30 PM
100 SKEET REG
100 ALL ROUND REG
BLACK POWDER
OPEN PRACTICE
SUN 6TH
9.30AM - 4.30PM
100 SPORTING REG
£100 HIGH GUN
(TELEPHONE ENTRIES PREFERRED)
OPEN PRACTICE
THURS 10TH
3PM - DUSK
MESSENGER SKEET CUP
60 SPORTING COMP
25 SPORTRAP COMP
OPEN PRACTICE
SAT 12TH
10AM - 4.30 PM
100 SKEET REG
100 DTL REG
BLACK POWDER
OPEN PRACTICE
SUN 13TH
10AM - 4.30PM
100 ALL ROUND REG

EAST MIDLANDS INTER-COUNTIES ALL ROUND
OPEN PRACTICE
THURS 17TH
3PM - DUSK
50 NSSA SKEET CUP
50 ABT CUP
60 SPORTING COMP
25 SPORTRAP COMP
OPEN PRACTICE
SAT 19TH
10AM - 4.30 PM
100 SKEET REG
100 ALL ROUND REG

OPEN PRACTICE
SUN 20TH
9.30AM - 4.30PM
100 SPORTING REG
£100 HIGH GUN (TELEPHONE ENTRIES PREFERRED)
OPEN PRACTICE
THURS 24TH
3PM - DUSK
50 BIRD FLUSH (2 PERSON TEAMS)
60 SPORTING COMP
25 SPORTRAP COMP
OPEN PRACTICE
SAT 26TH
10AM - 4.30 PM
100 SKEET REG
100 DTL REG
OPEN PRACTICE
SUN 27TH
10AM - 4.30PM
100 SKEET REG
100 SKEET DOUBLES REG
MIKE HARRIS MEMORIAL SHOOT
OPEN PRACTICE
THURS 31ST
3PM - DUSK
COUNTY ENGRAVERS SPORTING TROPHY
60 SPORTING COMP
25 SPORTRAP COMP
OPEN PRACTICE
September 2017
DATE
OPENING TIMES
CPSA REG/COMP
ADDINTIONAL INFO
SAT 2ND
10AM - 4.30 PM
100 SKEET REG
100 ALL ROUND REG
OPEN PRACTICE
SUN 3RD
9.30AM - 4.30 PM
100 SPORTING REG
£100 HIGH GUN (TELEPHONE ENTRIES PREFERRED)
OPEN PRACTICE
THURS 7TH
3PM - DUSK
S. BEASLEY S/S SPORTING TROPHY
O/S BEEBUILD CUP
60 SPORTING COMP
25 SPORTRAP

OPEN PRACTICE
SAT 9TH
10AM - 4.30 PM
100 SKEET REG
100 DTL REG
BLACK POWDER
OPEN PRACTICE
SUN 10TH
10AM - 4.30 PM
100 SKEET REG
100 DTL REG
100 DTL NORTHANTS, OXFORD & BEDS COUNTY CHAMPIONSHIP
OPEN PRACTICE
THURS 14TH
3PM - DUSK
60 SPORTING COMP
25 SPORTRAP
(PLEASE NOTE THIS IS OUR LAST CLUB NIGHT OF THE SUMMER)
OPEN PRACTICE
SAT 16TH
10AM - 4.30 PM
100 SKEET REG
100 DOUBLE RISE OPEN
OPEN PRACTICE
SUN 17TH
9.30AM - 3PM
100 SPORTING REG
£100 HIGH GUN (TELEPHONE ENTRIES PREFERRED)
OPEN PRACTICE
THURS 21ST
1PM - DUSK
25 SPORTRAP
OPEN PRACTICE
SAT 23RD
10AM - 4PM
100 DOUBLE RISE
100 SKEET
100 DOUBLE RISE NORTHANTS CHAMPIONSHIP
OPEN PRACTICE
SUN 24TH
10AM - 4PM
100 SKEET REG
100 SKEET DOUBLES REG
NSSA ANY GAUGE
OPEN PRACTICE
THURS 28TH
1PM - DUSK
25 SPORTRAP

OPEN PRACTICE
SAT 30TH
10AM - 4PM
100 SKEET REG
100 ALL ROUND REG
OPEN PRACTICE
October 2017
DATE
OPENING TIMES
CPSA REG/COMP
ADDITIONAL INFO
SUN 1ST
9.30AM - 3.30PM
100 SPORTING REG
£100 HIGH GUN (TELEPHONE ENTRIES PREFERRED)
OPEN PRACTICE
THURS 5TH
1PM - DUSK
25 SPORTRAP
SKEET, DTL & SPORTRAP PRACTICE
SAT 7TH
10AM - 4PM
100 SKEET REG
100 DTL REG


BLACK POWDER
OPEN PRACTICE
SUN 8TH
10AM - 4PM
100 SKEET REG
100 SKEET DOUBLES REG
100 ALL ROUND REG
OXFORD SKEET DOUBLES CHAMPIONSHIP
OPEN PRACTICE
THURS 12TH
1PM - DUSK
25 SPORTRAP
SKEET, DTL & SPORTRAP PRACTICE
SAT 14TH
10AM - 4PM
100 SKEET REG
100 ALL ROUND REG
OPEN PRACTICE
SUN 15TH
10AM - 3.30PM
100 ALL ROUND REG
NATIONAL INTER-COUNTIES ALL ROUND
OPEN PRACTICE
THURS 19TH
1PM - DUSK
25 SPORTRAP
SKEET, DTL & SPORTRAP PRACTICE
SAT 21ST
10AM - 4PM
100 SKEET REG
100 DTL REG
BLACK POWDER
OPEN PRACTICE
SUN 22ND
9.30AM - 3.30PM
100 SPORTING REG
£100 HIGH GUN
(TELEPHONE ENTRIES PREFERRED)
OPEN PRACTICE
THURS 26TH
1PM - DUSK
25 SPORTRAP
SKEET, DTL & SPORTRAP PRACTICE
SAT 28TH
10AM - 4PM
100 SKEET REG
100 ALL ROUND REG
OPEN PRACTICE
SUN 29TH
10AM - 4PM
100 SKEET REG
100 SKEET DOUBLES REG
NSSA ANY GUAGE
OPEN PRACTICE
November 2017
DATE
OPENING TIMES
CPSA REG/COMP
ADDINTIONAL INFO
THURS 2ND
1PM - DUSK
25 SPORTRAP
SKEET, DTL & SPORTRAP PRACTICE
SAT 4TH
10AM - 3PM
100 SKEET REG
100 DTL REG
BLACK POWDER
OPEN PRACTICE
SUN 5TH
9.30AM - 4PM
100 SPORTING REG
£100 HIGH GUN
(TELEPHONE ENTRIES PREFERRED)
OPEN PRACTICE
THURS 9TH
1PM - DUSK
25 SPORTRAP
SKEET, DTL & SPORTRAP PRACTICE
SAT 11TH
10AM - 4PM
100 SKEET REG
100 ALL ROUND REG
OPEN PRACTICE
SUN 12TH
10AM - 3PM
100 ALL ROUND REG
100 DTL REG
100 SKEET REG
OXFORD COUNTY ALL ROUND CHAMPIONSHIP
OPEN PRACTICE
THURS 16TH
1PM - DUSK
25 SPORTRAP
SKEET, DTL & SPORTRAP PRACTICE
SAT 18TH
10AM - 4PM
100 SKEET REG
100 DTL REG
BLACK POWDER
OPEN PRACTICE
SUN 19TH
9.30AM - 4PM
100 SPORTING REG
£100 HIGH GUN
(TELEPHONE ENTRIES PREFERRED)
OPEN PRACTICE
THURS 23RD
1PM - DUSK
25 SPORTRAP
SKEET, DTL & SPORTRAP PRACTICE
SAT 25TH
10AM - 4PM
100 SKEET REG
100 ALL ROUND REG
OPEN PRACTICE
SUN 26TH
10AM - 3PM
100 SKEET REG
100 SKEET DOUBLES REG
NSSA ANY GUAGE
OPEN PRACTICE
THURS 30TH
1PM - DUSK
25 SPORTRAP
SKEET, DTL & SPORTRAP PRACTICE
December 2017
DATE
OPENING TIMES
CPSA REG/COMP
ADDINTIONAL INFO
SAT 2ND
10AM - 4PM
100 SKEET REG
100 DTL REG
BLACK POWDER
OPEN PRACTICE
SUN 3RD
9.30AM - 3PM
100 SPORTING REG
£100 HIGH GUN
(TELEPHONE ENTRIES PREFERRED)
OPEN PRACTICE
THURS 7TH
1PM - DUSK
25 SPORTRAP
SKEET, DTL & SPORTRAP PRACTICE
SAT 9TH
10AM - 4PM
100 SKEET REG
100 ALL ROUND REG
OPEN PRACTICE
(NORTHANTS COUNTY PRESENTATION EVENING - 8PM)



SUN 10TH
10AM - 3PM
100 SKEET REG
100 SKEET DOUBLES REG
100 ALL ROUND REG
OPEN PRACTICE
THURS 14TH
1PM - DUSK
25 SPORTRAP
SKEET, DTL & SPORTRAP PRACTICE
SAT 16TH
10AM - 4PM
100 SKEET REG
100 DTL REG
60 SPORTING COMP
60 SPORTING POULTRY SHOOT
OPEN PRACTICE
SUN 17TH
9.30AM - 3PM
100 SPORTING REG
£100 HIGH GUN
(TELEPHONE ENTRIES PREFERRED)
OPEN PRACTICE
THURS 21ST
1PM - DUSK
25 SPORTRAP
SKEET, DTL & SPORTRAP PRACTICE
SAT 23RD
10AM - 4PM
100 SKEET REG
100 ALL ROUND
OPEN PRACTICE
SUN 24TH
CLOSED
CLOSED
MERRY CHRISTMAS!
TUES 26TH
10AM - 3PM
100 SKEET REG
60 SPORTING COMP
OPEN PRACTICE
THURS 28TH
1PM - DUSK
25 SPORTRAP
OPEN PRACTICE
SAT 30TH
10AM - 4PM
100 SKEET REG
100 DTL REG
OPEN PRACTICE
SUN 31ST
10AM - 3PM
100 SKEET REG
60 SPORTING COMP
OPEN PRACTICE
January 2018
DATE
OPENING TIMES
CPSA REG/COMP
ADDINTIONAL INFO
THURS 4TH
1PM - DUSK
25 SPORTRAP
SKEET, DTL & SPORTRAP PRACTICE
SAT 6TH
10AM - 4PM
100 SKEET REG
100 ALL ROUND REG
OPEN PRACTICE
SUN 7TH
9.30AM - 2.30PM
100 SPORTING REG
£100 HIGH GUN (TELEPHONE ENTRIES PREFERRED)
OPEN PRACTICE
THURS 11TH
1PM - DUSK
25 SPORTRAP
SKEET, DTL & SPORTRAP PRACTICE
SAT 13TH
10AM - 4PM
100 SKEET REG
100 DTL REG
OPEN PRACTICE
SUN 14TH
10AM - 3PM
100 SKEET REG
100 DTL REG
OPEN PRACTICE
WEDS 17TH
8PM
NORTHANTS CPSA AGM
THURS 18TH
1PM - DUSK
25 SPORTRAP
SKEET, DTL & SPORTRAP PRACTICE
SAT 20TH
10AM - 4PM
100 SKEET REG
100 ALL ROUND REG
OPEN PRACTICE
SUN 21ST
9.30AM - 2.30PM
100 SPORTING REG
£100 HIGH GUN (TELEPHONE ENTRIES PREFERRED)
OPEN PRACTICE
THURS 25TH
1PM - DUSK
25 SPORTRAP
SKEET, DTL & SPORTRAP PRACTICE
SAT 27TH
10AM - 4PM
100 SKEET REG
100 DTL REG
OPEN PRACTICE
SUN 28TH
10AM - 3PM
100 SKEET REG
100 SKEET DOUBLES REG
NSSA ANY GUAGE
OPEN PRACTICE
February 2018
DATE
OPENING TIMES
CPSA REG/COMP
ADDINTIONAL INFO
THURS 1ST
1PM - DUSK
25 SPORTRAP
SKEET, DTL & SPORTRAP PRACTICE
SAT 3RD
10AM - 4PM
100 SKEET REG
100 ALL ROUND REG
OPEN PRACTICE
SUN 4TH
9.30AM - 2.30PM
100 SPORTING REG
£100 HIGH GUN
(TELEPHONE ENTRIES PREFERRED)
OPEN PRACTICE
THURS 8TH
1PM - DUSK
25 SPORTRAP
SKEET, DTL & SPORTRAP PRACTICE
SAT 10TH
10AM - 4PM
100 SKEET REG
100 DTL REG
OPEN PRACTICE
SUN 11TH
10AM - 3PM
100 SKEET REG
100 SKEET DOUBLES REG
60 SPORTING COMP
OPEN PRACTICE
THURS 15TH
1PM - DUSK
25 SPORTRAP
SKEET, DTL & SPORTRAP PRACTICE
SAT 17TH
10AM - 4PM
100 SKEET REG
100 ALL ROUND REG
OPEN PRACTICE
SUN 18TH
10AM - 3PM
100 SKEET REG
100 ALL ROUND REG
100 SKEET DOUBLES REG
100 DTL REG
OPEN PRACTICE
THURS 22ND
1PM - DUSK
25 SPORTRAP
SKEET, DTL & SPORTRAP PRACTICE
SAT 24TH
10AM - 4PM
100 SKEET REG
100 ALL ROUND REG
OPEN PRACTICE
SUN 25TH
10AM - 3PM
100 SKEET REG
100 SKEET DOUBLES REG
NSSA ANY GUAGE
OPEN PRACTICE
March 2018
DATE
OPENING TIMES
CPSA REG/COMP
ADDINTIONAL INFO
THURS 1ST
1PM - DUSK
25 SPORTRAP
SKEET, DTL & SPORTRAP PRACTICE
SAT 3RD
10AM - 4.30PM
100 SKEET REG
100 DTL REG
OPEN PRACTICE
SUN 4TH
9.30AM - 2.30PM
100 SPORTING REG
£100 HIGH GUN
(TELEPHONE ENTRIES PREFERRED)
OPEN PRACTICE
THURS 8TH
1PM - DUSK
25 SPORTRAP
SKEET, DTL & SPORTRAP PRACTICE
SAT 10TH
10AM - 4.30PM
100 SKEET REG
100 ALL ROUND REG
OPEN PRACTICE
SUN 11TH
10AM - 4.30PM
100 SKEET REG
100 SKEET DOUBLES REG
100 ALL ROUND REG
100 DTL REG
OPEN PRACTICE
THURS 15TH
1PM - DUSK
25 SPORTRAP
SKEET, DTL & SPORTRAP PRACTICE
SAT 17TH
10AM - 4.30PM
100 SKEET REG
100 DTL REG
OPEN PRACTICE
SUN 18TH
9.30AM - 2.30PM
100 SPORTING REG
£100 HIGH GUN
(TELEPHONE ENTRIES PREFERRED)
OPEN PRACTICE
THURS 22ND
1PM - DUSK
25 SPORTRAP
SKEET, DTL & SPORTRAP PRACTICE
SAT 24TH
10AM - 4.30PM
100 SKEET REG
100 ALL ROUND REG
OPEN PRACTICE
SUN 25TH
10AM - 4.30PM
100 SKEET REG
100 SKEET DOUBLES REG
NSSA ANY GUAGE
OPEN PRACTICE
THURS 29TH
1PM - DUSK
25 SPORTRAP
SKEET, DTL & SPORTRAP PRACTICE
SAT 31ST
10AM - 4.30PM
OPEN PRACTICE