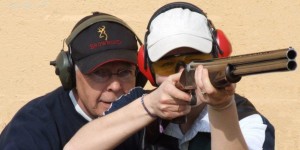 Whether you're an absolute beginner or already have some experience under your belt, Northampton Shooting Ground can provide expert tuition, either on a one-to-one basis or as part of a group.
Clay Shooting is an exciting hobby that many people discover for the first time on a corporate event or private party. It's also a highly competitive sport, with local, national and international level competitions to aim for.
If you decide to take it further, ongoing tuition is available, and you may even want to join Northampton Gun Club, where you will be able to continue to progress in the sport among like-minded people in a competitive yet sociable atmosphere.
Interested? Just browse for more information about learning to shoot and our coaching packages, just click here to contact us.
" Geoff & Dave have coached me and my son for over three years. My son started shooting aged 10 and the balance of instruction and encouragement they both gave him made all the difference in his interest and ability – they are excellent at coaching this age and stage. From not knowing one end of a gun from another, they also guided me – a novice in my mid-forties – through the legal and safety issues and the myriad of guns available. And – importantly – how to hit clays coming from most directions.
They are both very easy to work with and are particularly good at breaking any 'bad runs of luck' with calm, simple and completely memorable ways to avoid repeating mistakes. I have also hosted a couple of group clay shooting days and they have been excellent with clients and friends alike – guiding and helping, making sure that novices hit something – but not intruding on the day.
Based at Northampton Shooting Ground, they represent an important resource for those who both enjoy the sport already, but who may not want to ask  old hands 'stupid' questions. Their door is always open and a quick piece of advice has often rescued me from a day of misses!
If you're thinking of taking up this sport, improving your skill or looking to break bad habits (that you may not realise you have!) these are the guys to talk to. All the best and thanks for your help"  Toby Barnes FSRA FIRP