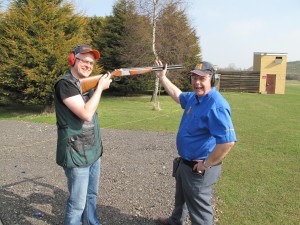 Northampton Shooting Ground can help you make your corporate event go with a bang!
We offer the ideal location for a company event – whether you're looking for:
An unusual training venue
An engaging team-building event
A different 'thank you' for a job well done
An exciting fund-raising activity
A striking venue for a new product launch
A memorable way to thank clients, staff and suppliers for excellent performance
With plenty of space, and a peaceful atmosphere set in the heart of the Northamptonshire countryside (yet easily accessible), Northampton Shooting Ground will tailor your event to your specific needs, working closely with you to ensure your corporate event meets your business objectives.
We offer:
Full catering from snacks to full dinners.
A licenced bar.
Seating for up to 70 in our clubhouse with additional space in marquees for larger events
CPSA accredited tuition
Trainers and facilitators
Dedicated events organisers
Photography of your event
Tailored clothing, gifts and trophies
Space for banners and flags
Ample free parking for cars and coaches
A range of shooting packages to suit budgets and time requirements
And when you book your corporate event at Northampton Shooting Ground, you'll be in good company – our clients include many local and national organisations. Corporate events are available for groups of 6 or more persons.
To discuss your needs and book your event, call us on 01604 642252 / 781741 or click here.