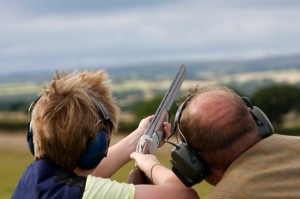 Introductions to shooting which include a full safety briefing and basic tuition are available from resident CPSA coaches, perfect for a corporate event or private party where attendees may have little or no experience of shooting.
Further group and individual tuition is also available by prior appointment.
Many of our regular customers and Gun Club members had their first experience of Clay Shooting as part of a corporate experience day or private party, where full tuition is provided to groups.
Their interest in Clay Shooting has grown from there, and with private tuition, many go on to shoot at high levels in competitions all over the country.
General Terms and Conditions relating specifically to Introductions & Lessons
Introductions and Lessons in clay shooting are usually available each Thursday afternoon, on Saturdays and most Sundays, all by prior appointment. We offer introductory lessons for the newcomer or novice shooter include range safety induction, elements of the shotguns and cartridges, with a gun handling demonstration. In addition guidance on gun storage, cleaning and eventual license application with progressive mentoring for the more experienced shot.
We generally do not sell packages of lessons beyond three in number,  as we aim to get you practicing as soon as you can consistently demonstrate safe handling of a shotgun.
Coaching Prices
Individual lesson, one hour, up to 25 clay targets                                                                      £50
Shared lesson, two people, one hour, up to 50 clay targets                                                    £75
Shared lesson, three people, 1.5 hours, up to 75 clay targets                                                £130
Payment for lessons can be cash, BACS, personal cheque or card, in advance or on the day, and we do ask for a small deposit.
Cartridges  can be supplied by the client, or purchased from the club.
Shotguns can be supplied by the client, or provided by the club.
Prepaid Vouchers can be purchased to cover a single or up to three lessons.
Operating Conditions
We operate predominantly on grassed areas and suitable outdoor clothing and firm footwear is recommended.
Please be aware that hearing and eye protection is

mandatory

during all lessons and during corporate events, and is provided free of charge.
Lessons are confirmed as at booking date;  a free of charge change of date and time is subject to availability,  up to three full working days prior to the day of the lesson. After that the booking cannot be changed, the fee is due and any applicable vouchers are considered fully redeemed. We regret that we cannot credit for no shows on the day.
We reserve the right to refuse lessons to any person who we believe to be under the influence of drugs or alcohol, and the instructor/coach's decision is final.
First time visitors are required to complete a registration form before shooting, declaring that they have no medical conditions that would impair their handling of a shotgun and are not a prohibited person under Section 21 of the Firearms Act.
Please note that this is a country sport and that we do not stop for inclement weather, unless it is deemed unsafe.
When you visit Sywell Range,please read the General Conditions posted prominently both in the Club house and in the Shooting School.
To book a lesson, either e-mail or call, details as shown below.
HS Shooting Academy for and on behalf of Northampton Shooting Ground, Sywell Leisure Sports Ltd, Sywell Range.
Mobile+44 7907 557194         Sywell.shootingacademy@googlemail.com                or HSSAUK@gmail.com
Alternatively, call the shooting ground on 01604 642252 / 781741 or complete the enquiry form.